Ormus Mists are aromatherapy Aura sprays energized with Ormus to cleanse, balance, and protect your Aura and your personal electro-magnetic space. ​

​

Ormus Mists are vibrational remedies based on the principles of Quantum Physics to harmonize our energetic bodies. Vibrational healing is based on the idea that we are energetic beings and that when our energies become out of balance, it affects all levels of our lives. Ormus Mists help to balance our energies and raise our vibration in order to realize our highest selves and live our best lives.

​​Ormus Mists contain water that has been vortexed and magnetized to raise its vibrational energy, Ormus from

Dead Sea Gold Manna

, and custom essential oil blends to set the specific intention of each Ormus Mist formula.

​To use, spray Ormus Mists in an arc around yourself and your personal energy space. It can also be sprayed in your room in order to clear the space of negative and unwanted energies and set your intention for the space. Ormus Mists are perfectly safe, but please be careful not to get the mist in your eyes. Shake gently before using.

​
FREE SHIPPING WITHIN THE U.S.!!
---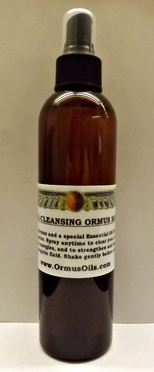 Aura Cleansing Ormus Mist

Your Aura is an energetic field that emanates from your body and surrounds you like a luminous egg. It contains various colors depending on the vibrational level of your energy at any given moment. Your Aura can be affected by the energies of others and can change color and size depending on your current situation and mood. Your aura can absorb unwanted energies and influences from your interactions with others, making you feel unbalanced, emotionally unstable, and just not like yourself.

Aura Cleansing Ormus Mist contains Ormus and a special essential oil blend in vor-mag water to clear your Aura of these unwanted energies, helping to strengthen, balance, and unblock the natural flow of your energetic field.
---
---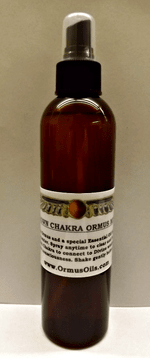 Chakra Ormus Mists

Chakras are fixed points of energy flow within our bodies. We have many of these energy centers, but the most commonly known are the 7 chakras that are aligned vertically along your spine. The energy flowing through these centers can become blocked, leading to physical, emotional, and spiritual imbalances that can have serious consequences for our lives.

​Each of the seven chakras are at a different vibrational level and are associated with different areas of your life and well-being. Correspondingly, there is a different Chakra Ormus Mist available for each of the seven chakras. Each one contains Ormus and a special essential oil blend in vor-mag water to unblock that chakra so that your spiritual energy can flow freely.

Just choose the Chakra Ormus Mist that is associated with an area of your life and yourself that you would like to work on:
---
Crown Chakra – connection with the Divine/Spirit, gateway to higher dimensions
Third Eye – center of psychic powers, wisdom, dreams, and higher intuition
Throat – effective communication, ability to relate authentically with others
Heart – healthy personal relationships, ability to give and receive love, compassion for all life
Solar Plexus – strong identity, personal power, and sense of self-worth
Sacral – in touch with primal emotions and instincts, creativity, and sexual desire
Root – strong foundation, core needs of survival, security, and livelihood​

​
---
The Chakra Balancing Ormus Mist Set is $130.00

Chakra Balancing Ormus Mist Set

Not only is it important to make sure that the Chakras are clear and allowing a free flow of energy, but that they are also all in balance with each other. The Chakra Balancing Ormus Mist Set includes all 7 Chakra Ormus Mists as a set in 2-oz spray bottles. Using all 7 of the Chakra Ormus Mists together helps to ensure that each receives the attention that it needs in conjunction with the others. ​
| | |
| --- | --- |
| ​For more information about the 7 chakras, including a meditation that you can use in conjunction with the Chakra Balancing Ormus Mist Set, download this free pdf: | |
---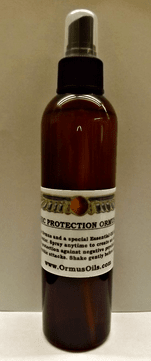 Psychic Protection Ormus Mist
Psychic Protection Ormus Mist contains Ormus and a special Essential Oil blend in vor-mag water. Psychic Protection Ormus Mist creates an energetic shield of protection around you against negative psychic energy, psychic vampires, and psychic attacks. It is also very useful protection for those of us who are empathic or highly sensitive to becoming overwhelmed by the energy of others. Psychic Protection Ormus Mist is also very effective for cleansing and consecrating ritual/meditation space, sacred objects, ritual tools, and crystals/stones.
The Psychic Protection essential oil formula is also available as an
Ormus Oil or Ormus Lotion
!
---
---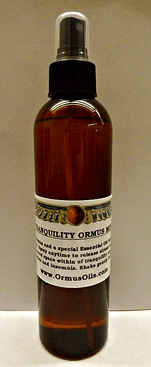 Tranquility Ormus Mist
Tranquility Ormus Mist contains Ormus and the essential oils lavender, chamomile, and ylang-ylang in vor-mag water. Tranquility Ormus Mist creates a sacred space of tranquility and relaxation where stress and worries fall away, allowing you to re-connect to your true essence of Abundance and Joy.
Users have also found that it improves sleep, soothes tense muscles, calms nerve spasms, and eliminates tension headaches.
Stress takes a toll on all of us physically, emotionally, and spiritually.
Whether stress is manifesting in you physically as tense muscles, headaches, lack of restful sleep; emotionally as anxiety and depression; or spiritually as a feeling of a lack of connectedness and abundance, Tranquility Ormus Mist can transform and raise these negative energies into vibrations of peace and well-being.
The Tranquility essential oil formula is also available as an
Ormus Oil or Ormus Lotion
!
---
---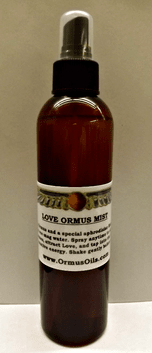 Love Ormus Mist
Love Ormus Mist contains Ormus and a special aphrodisiac Essential Oil blend in vor-mag. The enticing Ormus-fueled Essential Oil Blend in Love Ormus Mist stimulates the senses, drawing in your love mate, allowing you to connect with each other at the physical, emotional, and spiritual levels simultaneously, while accessing the creativity and fire of your sexual energy.
The Universe is Love. Tap into this creative, generative, passionate, abundant wellspring of energy and fall in Love. With yourself, with the world, with your soul mate, with everyone. Be a conduit of Love.
The Love essential oil formula is also available as an
Ormus Oil or Ormus Lotion
!
---
---