Ormus Manna contains Ormus precipitated from different source waters using water alchemy. Different sources vary in the amounts and ratios of Ormus elements, so each Manna has its own distinctive energy and effect on the person taking it. The Ormus is provided in a liquid matrix that includes other healthful minerals such as magnesium, potassium, and calcium.

​To start, take 1/2 to 1 tsp once or twice a day on an empty stomach. After a few doses, your intuition will assist you in fine tuning the amount to take and how often. Store in a cool, dark place away from Electromagnetic Fields (EMF: TV's, refrigerators, microwaves, cell phones, etc).
​
FREE SHIPPING WITHIN THE U.S.!!
---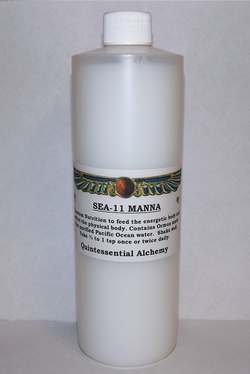 Sea-11 Manna​
​The source waters of Sea-11 Manna is purified Atlantic Ocean water that is completely free of pollutants, radiation, and other contaminants. Thought to be the saltiest of the world's oceans, evaporation, precipitation, river inflow, and ice melt contribute to the salinity of the Atlantic Ocean, making it an excellent source of all 11 of the Ormus elements.

Analytical tests show that Sea-11 Manna contains all of the Noble Metals and Platinum Group elements in the monatomic state, in their naturally occurring ratios. It also contains magnesium, calcium and potassium. Sea-11 Manna provides the full-spectrum of Ormus minerals and therefore is very balancing and strengthening for both the physical and spiritual bodies. Sea-11 Manna works like a supplement, helping to replenish and build up all of the Ormus elements to benefit the physical, mental, emotional, and spiritual bodies together.
---
| | |
| --- | --- |
| | Choose Sea-11 manna if you are new to Ormus in order to build up a balanced and strong foundation of Ormus elements within |
---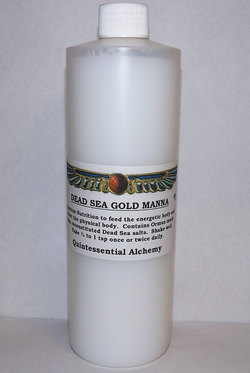 Dead Sea Gold Manna

Dead Sea Gold Manna contains Ormus made from the mineral salts of the Dead Sea. The Dead Sea contains 21 minerals, 12 of which are found in no other sea or ocean, making the Dead Sea truly special. The unique concentration of the Dead Sea waters has long been known to have medicinal value and modern doctors often prescribe patients with a variety of ailments to soak in the waters of the Dead Sea.

Analytical tests show that Dead Sea Gold Manna contains 70% m-Gold and 30% m-Rhodium and m-Iridium. m-Gold opens the third eye, increases psychic and spiritual awareness, enhances meditations, awakens kundalini, and balances the left and right hemispheres of the brain. m-Rhodium and m-Iridium supports, strengthens and heals the physical body, providing a solid, healthy foundation supporting spiritual growth.
---
| | |
| --- | --- |
| | Choose Dead Sea Gold Manna if you want to develop your psychic abilities and to accelerate your spiritual evolution while strengthening your physical body |
---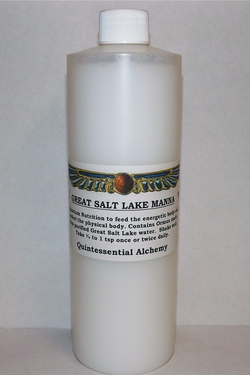 Great Salt Lake Manna

The Great Salt Lake has been called America's Dead Sea. Like the Dead Sea, the Great Salt Lake receives water and minerals from many streams and rivers but the only outlet for the water is evaporation, leaving behind abundant minerals in ionic form. Research has shown that the Great Salt Lake is an abundant natural source of Ormus, due to the high mineral content of the waters.

Analytical tests show that the Great Salt Lake Manna contains approximately 30% monatomic Rhodium, 20% monatomic Gold, and 6% monatomic Iridium, with magnesium, potassium and calcium, in a matrix of pure alkaline-ion water. Great Salt Lake Manna has the highest percentage of m-Rhodium and m-Iridium, the "healing" Ormus elements, of all of the Mannas.
---
| | |
| --- | --- |
| | Choose Great Salt Lake Manna if your physical body is in need of specific or intense healing |
---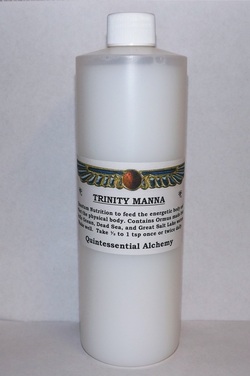 Trinity Manna

Trinity Manna is made by precipitating together three primary source waters: Dead Sea, Atlantic Ocean, and Great Salt Lake. This yields a manna that, while also having the properties of each source water individually, embodies the synergistic powers of the three into a Divine Unity of Ormus that is greater than the sum of its parts.

Mind, Body, Soul. Maiden, Mother, Crone. Father, Son, Holy Ghost. Will, Wisdom, Love. Father Light, Mother Space, Individualized Child. Life, Death, Rebirth. Earth, Sea, Sky. Waxing, Full, Waning. Yin, Tao, Yang. Sulphur, Mercury, Salt. Brahma, Vishnu, Shiva. Sun, Moon, Stars.

How many Trinities can you think of? The Trinity symbolizes the One Divine Nature of All. It is a reminder of the unity of all things, and that there is strength, beauty, continuity, and purpose in that unity.
---
| | |
| --- | --- |
| | Choose Trinity Manna if you want to experience the best of the three Ormus source waters in a synergistic blend. |
---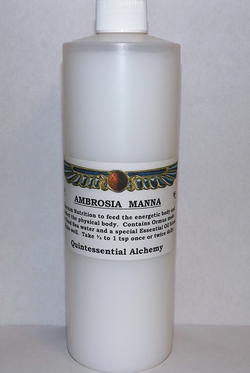 Ambrosia Essential Oil Manna

Ambrosia Essential Oil Manna combines Ormus made from Dead Sea Salt with a specially prepared essential oil blend that adds a vibratory signature that enhances the spiritual effects that many experience with Ormus.

Essential Oils "ensoul" Ormus by providing an extra level of vibratory energy that can charge and "direct" the Ormus for specific outcomes.

The essential oils used in this Manna impart a very pleasing taste and aroma to the Ormus, as well as enhancing the spiritual dimension that is inherent in Ormus, making this truly the "Food of the Gods."


---
| | |
| --- | --- |
| | Choose Ambrosia Essential Oil Manna if you would like a little extra "oomph" in your Manna. |
---