Most formulas are available as either an Ormus Oil or as an Ormus Lotion - you can choose which you prefer! Both allow for the absorption of Ormus through the skin directly into the bloodstream to be circulated where it is needed most. As an added bonus, Ormus Oils and Lotions provide an excellent source of magnesium that absorbs easily through the skin.

​Grapeseed Oil is an excellent carrier oil for Ormus as it is naturally high in m-Rhodium and m-Iridium, the "healing" Ormus minerals. It is also high in essential fatty acids, anti-oxidants, vitamins and minerals. This light oil is good for all skin types, especially for skin types that don't absorb oils well. It aids in collagen production and keeps cell membranes healthy.

Olive Oil is highly compatible with our skin and is an excellent moisturizer. It aids in skin cell regeneration and cell membrane repair. Olive Oil is rich in polyphenols, which aids in skin healing and anti-aging. It is also an excellent source of vitamins A, D, K, and E.

Enriched with Sweet Almond, Jojoba, and Argan Oils, the luxurious lotion base I use in my Ormus Lotions strengthens skin's natural moisture barrier to restore its beauty and radiance. It absorbs easily without feeling greasy or sticky, leaving skin feeling silky and nourished.
​
​Apply Ormus Oils and Lotions everywhere, or anywhere on the skin where it is needed most, and the Ormus and essential oils are absorbed into, and circulated throughout, the physical and energetic bodies to do their work.
​
FREE SHIPPING WITHIN THE U.S.!!
---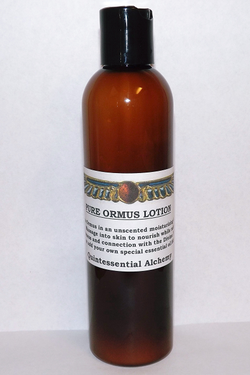 Pure Ormus Oil or Pure Ormus Lotion

Available as an Oil or as a Lotion! Pure Ormus Oil contains Ormus in a grapeseed carrier oil. Pure Ormus Lotion contains Ormus in a luxurious lotion base.

Pure Ormus Oil and Lotion is for those who would like to experience the purity of Ormus without the influence of energies from essential oils. Or you can add your own special essential oil blend to make this Ormus Oil or Lotion uniquely yours.






​
---
Provides Quantum Nutrition in the form of concentrated Ormus to strengthen the Light Body and perfect the physical body
Ormus aids in spiritual development by raising consciousness levels, increasing feelings of connection with the Divine, and enhancing natural psychic abilities
---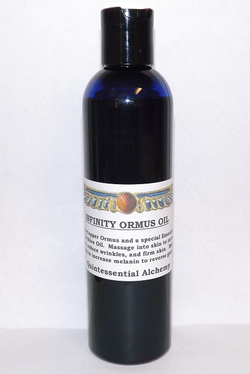 Infinity Ormus Oil or Infinity Ormus Lotion

Available as an Oil or as a Lotion! Infinity Ormus Oil contains m-state copper Ormus and a special essential oil blend in an Olive Oil carrier. Olive Oil is naturally high in copper and my research shows that m-state copper has a strong affinity for Olive Oil.​ Infinity Ormus Lotion contains m-state copper Ormus and a special essential oil blend in a moisturizing lotion base.

Copper is a vital trace element known for its natural anti-aging properties. Copper helps to break down damaged collagen and promotes the building of new healthy collagen, smoothing out wrinkles, fading scars and stretch marks, and increasing the elasticity and firmness of the skin. Because it increases melanin production, copper has also been found to turn gray hair back to its original natural color. Copper also is very beneficial in increasing bone density and soothing sore muscles and joints. Several essential oils known for their skin and hair regeneration properties, such as carrot seed, chamomile, frankincense, are added to create an Ormus Oil and Lotion that is truly rejuvenating!
---
Anti-aging and rejuvenating
Firms and tones skin, reduce wrinkles, minimizes scars, restores natural hair color
Promotes optimism and an openness to new possibilities, and increases energy and vitality
---
Kundalini Ormus Oil or Kundalini Ormus Lotion

Available as an Oil or as a Lotion! Kundalini Ormus Oil and Lotion contains Ormus and a specific blend of Essential Oils to open and balance your chakras. Chakras are energy vortexes in the etheric body whose job is to absorb and distribute Prana, the Life Force, to the etheric and physical bodies, and to link physical consciousness to higher dimensional consciousness. The more the chakras can assimilate Prana – the more open and balanced they are – the greater the access to higher consciousness. Anytime we repress our thoughts and feelings about particular experiences, the corresponding chakra can become blocked, impeding universal energy flow. This can lead to disease in the physical body. However, we can work with the chakras through meditation and with Ormus and essential oils to unblock and balance them to allow the universal healing energy to flow so that we are whole and connected to the Divine and our Higher Self.
---
Opens, clears, and balances the seven main chakras
Awakens Kundalini energy and allows for unimpeded flow of Prana
Enhances spiritual evolution and connection with Source Energy
---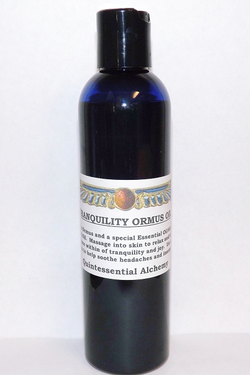 Tranquility Ormus Oil or Tranquility Ormus Lotion
Available as an Oil or as a Lotion! Tranquility Ormus Oil and Lotion contains Ormus and the Essential Oils lavender, chamomile, and ylang-ylang. Tranquility Ormus Oil and Lotion creates a sacred space of tranquility and relaxation where stress and worries fall away, allowing you to re-connect to your true essence of Abundance and Joy.
Users have also found that it improves sleep, soothes tense muscles, calms nerve spasms, and eliminates tension headaches.
Stress from our everyday lives takes a toll on all of us physically, emotionally, and spiritually. Whether stress is manifesting in you physically as tense muscles, headaches, lack of restful sleep, and nerve and muscle spasms; or emotionally as anxiety and depression; or spiritually as a feeling of a lack of connectedness and abundance, Tranquility Ormus Oil or Lotion can help to create a buffer of sacred space which allows you to replenish from Source.
Also available as an
Ormus Mist
!
---
Helps you to relax and de-stress from the anxieties of life
Soothes headaches and muscle tension and reduces insomnia, improving quality of sleep
Uplifts the mood, creating a sacred space within of tranquility and joy
---
Love Ormus Oil or Love Ormus Lotion
Available as an Oil or as a Lotion! Love Ormus Oil contains Ormus and a special aphrodisiac Essential Oil blend in Grapeseed Oil. Love Ormus Lotion contains Ormus and a special aphrodisiac Essential Oil blend in a creamy lotion base. The enticing Ormus-fueled Essential Oil Blend in Love Ormus Oil and Lotion stimulates the senses, drawing in your love mate, allowing you to connect with each other at the physical, emotional, and spiritual levels simultaneously, while accessing the creativity and fire of your sexual energy.
The Universe is Love. Tap into this creative, generative, passionate, abundant wellspring of energy and fall in Love. With yourself, with the world, with your soul mate, with everyone. Be a conduit of Love.

Also available as an Ormus Mist!
---
Aphrodisiac Essential Oil Blend stimulates the senses and kindles passion
Connect with your physical body and the fire of your creativity and sexual energy
Irresistibly draw your soulmate to you
---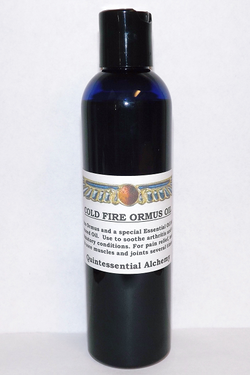 Cold Fire Ormus Oil

Cold Fire Ormus Oil is a synergistic blend of Ormus and four Essential Oils known for their anti-inflammatory properties, in a carrier of Grapeseed Oil. Most inflammatory conditions are believed to be caused by an over-production of an enzyme called COX-2. The essential oils used in this proprietary Ormus Oil blend have long been used for treating inflammatory conditions, and may be natural COX-2 inhibitors. Combining these essential oils with Ormus and Grapeseed Oil creates a very powerful anti-inflammatory oil.

Cold Fire Ormus Oil helps to calm inflammatory conditions such as arthritis, ease muscle and joint pain, and strengthen the body's responses to infections and injuries. In addition, a growing body of scientific evidence is showing that blocking the COX-2 enzyme may prevent or reverse many life-threatening diseases such as cancers and Alzheimer's Disease.
---
Targeted anti-inflammatory blend
Relieves arthritis pain and soothes sore muscles and joints
Grapeseed Oil absorbs quickly into the skin, delivering targeted relief where needed
---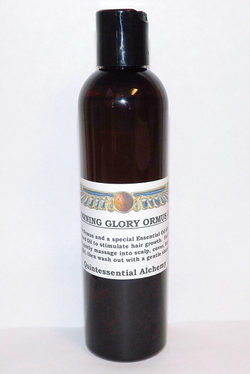 Crowning Glory Ormus Oil

Crowning Glory Ormus Oil is specially blended with essential oils that act on hair follicles to stimulate hair growth. Crowning Glory Ormus Oil stimulates hair growth by increasing circulation in the scalp, increasing the availability of oxygen, antioxidants, and nutrients to the cells, balancing the skin oils, and supporting and strengthening the immune system.

For best results, apply Crowning Glory Ormus Oil to the scalp, massaging in gently and thoroughly, cover, and leave in overnight. The next morning, wash with a gentle and mild shampoo. It may take approximately three months before you start to notice regrowth. If you cannot apply Crowning Glory Ormus Oil every night or leave in overnight, then at least do so as often as possible and leave in for at least 15 minutes at a time.
---
Stimulates hair growth and helps to prevent future hair loss
Increases circulation and the availability of oxygen, nutrients, and antioxidants to the scalp
Balances sebum production, and is anti-bacterial and anti-inflammatory
---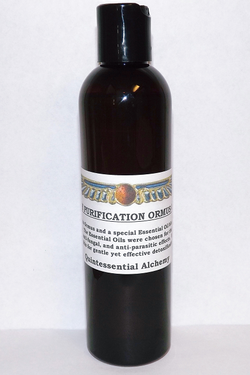 High Purification Ormus Oil or Ormus Lotion

High Purification Ormus Oil combines Ormus-infused Olive Oil with seven different anti-bacterial, anti-fungal, and anti-parasitic essential oils, including oil of oregano, tea tree oil, and rosemary. The High Purification Ormus Lotion contains the same exceptional essential oil blend in a moisturizing lotion base. The Ormus strengthens the Light Body, which in turn supports the physical body and helps to strengthen the immune system, while the Essential Oils start to work on eliminating the microorganisms.

Microorganisms are thought to be responsible for many disease states that people suffer from nowadays. I am continually hearing about someone who is suffering from chronic Lyme's Disease that modern treatments, such as antibiotics, are not helping. Or there is the latest theory that fungus may be the cause of some cancers. Candida infection can lead to metabolic imbalances. These and other microorganisms are blamed for many conditions that often go unnoticed or are not very easy to treat.


---
Special Essential Oil blend to aid in detoxification and purification
Purge fungi, yeast, and other parasites with an Essential Oil blend powered by Ormus
Eliminate disease-causing microorganisms and pain from parasitic infections
---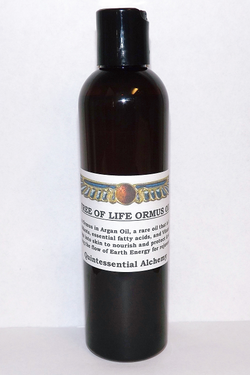 Tree of Life Ormus Oil

The Tree of Life Ormus Oil contains Ormus in Argan Oil, a magical oil from Morroco.
Argan Oil is a rare and precious oil expressed from the seeds of the Argan tree, and is rich in naturally occurring anti-oxidants, essential fatty acids and squalene, sterols, carotenes, polyphenols, and Vitamin E - more so than any other oil known. Argan oil absorbs quickly and is often used in skin, nail and hair treatments to deliver deep hydration, protect against the signs of aging such as wrinkles, strengthen brittle hair and nails, and prevent/reduce stretch marks and scars.

Tree of Life Ormus Oil provides anti-aging and protective benefits at the physical level while also being grounding. The Tree of Life is an important symbol in many cultures and religions, representing immortality and renewal, linking the physical world and the spiritual worlds. Tree of Life Ormus Oil embodies the spirit of this universal archetype, bridging the Above and Below, and honoring the interconnectedness of all life, at all vibrational levels.
---
Protects against environmental damage and reduces the signs of aging
Nourishing, hydrating, and strengthening for skin, hair, and nails
Grounding, connects the energies from Above and Below, excellent for shamanic work
---
Chakra Ormus Oils or Chakra Ormus Lotions

Chakras are fixed points of energy flow within our bodies. We have many of these energy centers, but the most commonly known are the 7 chakras that are aligned vertically along the spine. The energy flowing through these centers can become blocked, leading to physical, emotional, and spiritual imbalances that can have serious consequences for our lives.

​Each of the seven chakras are at a different vibrational level and are associated with different areas of your life and well-being. Correspondingly, there is a different Chakra Ormus Oil or Lotion available for each of the seven chakras. These energetic Chakra formulations combine special essential oil blends designed specifically for the corresponding chakra in either Ormus-infused grapeseed oil for the Chakra Ormus Oils or Ormus-infused moisurizing lotion base for the Chakra Ormus Lotions.

Just choose the Chakra Ormus Oil or Lotion that is associated with an area of your life and yourself that you would like to work on. ​​​

Crown Chakra – connection with the Divine/Spirit, gateway to higher dimensions
Third Eye – center of psychic powers, wisdom, dreams, and higher intuition
Throat – effective communication, ability to relate authentically with others
Heart – healthy personal relationships, ability to give and receive love, compassion for all life
Solar Plexus – strong identity, personal power, and sense of self-worth
Sacral – in touch with primal emotions and instincts, creativity, and sexual desire
Root – strong foundation, core needs of survival, security, and livelihood​

​
---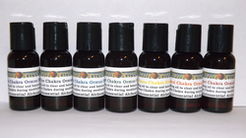 Chakra Anointing Ormus Oil Set

The Chakra Ormus Oils are also available as a set of seven 1 oz bottles, each containing a specific Essential Oil blend, creating a focused Ormus Oil with that extra level of intention and resonance to balance and clear the seven Chakras. To use, anoint the area of the corresponding chakra with 1-3 drops of the appropriate Chakra Ormus Oil while visualizing the chakra spinning and becoming open.
---
| | |
| --- | --- |
| The Chakra Anointing Ormus Oil Set is $65.00 | |
| | |
| --- | --- |
| ​For more information about the 7 Chakras, including a powerful meditation that you can use in conjunction with the Chakra Anointing Ormus Oil Set, download this free pdf: | |
---
Custom Blend Ormus Oil or Lotion

Want something that you do not see here? Just contact me at

spirit_nature@juno.com

and I will create a Custom Blend Ormus Oil or Lotion just for you and your special needs.​

​
---